Robert F. Smith was the second child born to Sylvia M. and William R. Smith in Denver, Colorado, on December 1, 1962. Smith is part of the fourth generation of Denverites on his father's side. His parents, both educators and supporters of the civil rights movement, were part of a Black middle-class neighborhood populated with prosperous, motivated wage workers and their families. 
As Smith grew up, his parents each completed doctoral degrees in education and he cemented his love of learning. When the opportunity came to attend a desegregated school, he chose to go even though an arson attack decimated all but a handful of buses meant to transport Black students. Smith said the resources available to him at that elementary school in a white neighborhood engaged him and challenged him to expand his world view.
Smith's early life was shaped by his environment as well. His community nurtured school children and provided a safe, loving space where he was able to thrive. He learned early on how mentors and early STEM or music education can uplift a young person's mind and allow their spirit to soar. He also first learned about engineering from community elders at backyard gatherings and participated in a rocket club led by a local volunteer.
Smith later graduated from Cornell University with a bachelor's degree in chemical engineering. After achieving success in his chosen field, Smith switched careers. He attended Columbia Business School at Columbia University, where he earned his MBA before joining investment firm Goldman Sachs. From there, he took the leap into entrepreneurship, launching Vista Equity Partners.
Family and Community Provide Guidance for Social Responsibilities
Family expectations of giving, reinforced by peers and community groups guide Smith's philanthropy. Smith has recounted feeling frustrated as a child when his mother's monthly gifts to UNCF meant that he might have to work to get the new sneakers he wanted. He came to understand that his mother donated because she knew it would have a positive impact on others. She gave to uplift her son. 
Smith's father was also a formative influence and inspired his desire to protect the natural world. His father and extended family took the young Robert F. Smith to explore the Great Sand Dunes, Mesa Verde and Dinosaur national parks in Colorado on a two-week-long trip which left a lasting impression. 
Smith's grandmother contributed to his historical interests as well. She often recalled summer visits in the 1920's to Colorado's Lincoln Hills Ranch where jazz and literary legends such as Count Basie and Langston Hughes gathered to feed their souls in communion with the natural world. 
Robert F. Smith announced during his commencement speech at Morehouse College in 2019 that his family would pay off the graduates' student loan debt.
A long time supporter of the United Negro College Fund (UNCF), Smith and his brother helped create the Sylvia M. Young Smith Scholarship Program, honoring their mother.
In his neighborhood, Smith was inspired by what his good friend, Rev. Bernice King, calls a "Blessed Community." Neighbors helped neighbors. Children had the benefit of tutoring from older teenagers. The neighborhood's working professionals served as role-models and mentors. Smith came to understand how fortunate he was to have access to these resources, and vowed to help educational nonprofits across the country replicate the experience in underserved communities. 
Smith's experiences were further reinforced when he joined the Alpha Phi Alpha (APA) fraternity as an undergraduate in chemical engineering at Cornell University. Smith became part of the legacy of Black American APA brothers, such as Rev. Dr. Martin Luther King Jr. and Andrew Young, who served this country as civil rights leaders. The APA's commitment to community outreach mentoring initiatives is a bedrock of the national fraternity.  
These experiences inform Smith's philanthropy, which focuses on education, internships, physical health, outdoor experiences, historic preservation and community-centered leadership. When taken together, Smith's initiatives are designed to uplift individuals and communities, helping them achieve their highest potential.
A Black Entrepreneur Pledges to Uplift and Create True Equity
In 2017, Robert F. Smith signed the Giving Pledge. He did not dwell on making history as the first Black American to sign the Pledge. Instead, Smith used the platform to focus attention on the digital revolution and the potential to transform and uplift all people.
"Potential is no guarantee of progress," Smith wrote in his pledge, "We will only grasp the staggering potential of our time if we create onramps that empower ALL people to participate, regardless of background, country of origin, religious practice, gender, or color of skin."
Smith works with local leaders and organizations to help get technology and capital into communities that have historically been neglected.
Liberation Begins with Education
Smith's philanthropy focuses on the end-goal of liberation — from both institutional barriers and financial burdens. Smith is an advocate for opportunity and access, and he believes that the best way to uplift individuals is to provide the infrastructure and tools for them to achieve success on their own merits. One of the foremost ways to accomplish this and create generational change is through education. But, there are roadblocks on this journey for many students from marginalized backgrounds, and especially the African American community.
Through collaborations with Fund II Foundation, where he serves as founding director and President, Smith has helped fund groups that bring opportunity and preserve African American history and culture, such as:
Smith's focus on education and liberation made him wonder what would be possible if a group of young Black men, ready to graduate college and take on their professional lives, were freed from their debts. 
Smith decided to pay the student loan debts of the Morehouse College class of 2019. He gave each graduate a mission: to find a way to uplift their communities and pay the gift forward. The gift made international headlines for weeks, and the ripple effect of the gift continues to inspire positive action.
"I am showing the current generations of African Americans they can do it, too. So the next generation can go even higher," Smith said in an interview after the Morehouse gift.
Soon after the Morehouse gift, Student Freedom Initiative was conceived to broaden its scope so that a generation of students in minority serving institutions nationwide might have a chance for freedom from student debt. Students at Tuskegee and Claflin, as well as other participating HBCUs, now have access to support, internships and an income-contingent funding alternative.
Smith's philanthropy has also shaped the corporate identity of Vista Equity Partners (Vista), the investment firm he founded and where he currently serves as the Chairman and CEO. Vista is centered on "the transformative power of technology" as a catalyst to bring about a better future with a broader path to prosperity. Vista works with corporate signature partners to provide internships and coding classes to minority communities. Vista and Smith have also worked together to fund necessary supplies, technology and cultural programming in hundreds of classrooms through DonorsChoose.
Supporting arts programs for diverse groups, such as the Sphinx Organization, is an important initiative for both Smith and his wife, Hope.
It's on Us: The Weight of History
Smith's philanthropic focus is grounded in history. He was born in the 1960s to parents active in the civil rights movement. He was raised to understand his place in history and the sacrifices of generations that came before him. But today, he recognizes that social forces could roll back the hard-won rights of Black Americans.
"The vision I was sold as a kid is unraveling," Smith said. "I see the little tears in the fabric of society every day. This cannot be."
To ensure that Black history remains accessible, Smith donated $20 million to the National Museum of African American History and Culture in 2016. He has collaborated with Harvard professor and historian Henry Louis Gates, Jr. and Hidden Empire Film Group producer/director Deon Taylor to create the Webby-Award winning video podcast Black History in Two Minutes. He has also funded music, environmental and educational causes through Fund II Foundation.
The National Museum of African American History and Culture, which houses the Robert F. Smith Explore Your Family History Center.
Robert F. Smith and wife, Hope Dworaczyk Smith, both hold philanthropy near and dear to their hearts. After signing the Giving Pledge in 2017, Smith committed to investing half of his net worth throughout his lifetime to philanthropy and other charitable causes. Hope joined in on this and pledged to focus her efforts on the famous words of Aeschylus: to "tame the savageness of man and make gentle the life of this world". With this, they have both strived to support young people and the future of our world.
They have jointly donated to many organizations including Susan G. Komen, the Prostate Cancer Foundation and more. They made a $27 million grant to Susan G. Komen to help those in the African American community who are battling this grave disease. In addition, they donated $2.5 million to prostate cancer research that helps with early detection of prostate cancer in African American men, who remain the most vulnerable to this disease.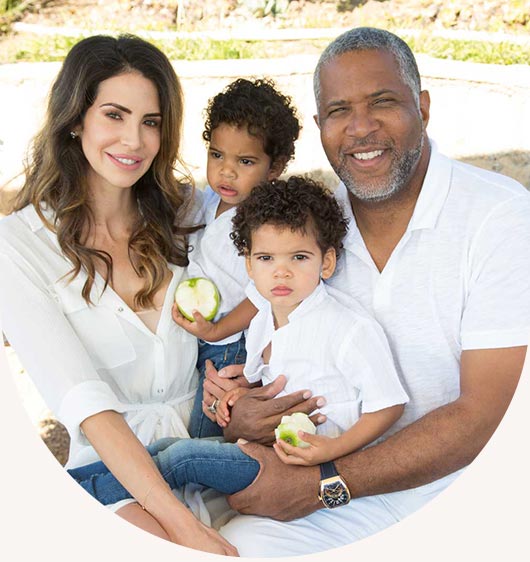 Robert F. Smith with wife Hope Dworaczyk Smith and their sons.
Smith's Honors and Accolades in Philanthropy
Smith is the founding director and President of Fund II Foundation and serves as Chairman of Student Freedom Initiative. He is a founding partner of REFORM Alliance. Smith has served as Chairman of Carnegie Hall since 2016. He is an at-large member of the Business Roundtable and a trustee of the Louis Armstrong House Museum. Smith serves on the Board of Overseers of Columbia Business School and is a member of the Cornell Engineering College Council. He serves on the board of Robert F. Kennedy Human Rights.
Robert F. Smith with his daughters Zoe (left) and Eliana (right) and wife Hope Dworaczyk Smith after he received the Carnegie Medal of Philanthropy in 2019
Numerous groups have honored Smith for his entrepreneurship, leadership, philanthropy and civil rights advocacy: